Sea Lettuce
"Leaf and Flake Form - Additive Free • Natural
A bright green sea plant vegetable with a distinctive, pungent taste in its dry form,  and less so when soaked in water for 5-10 minutes.
 After soaking in cold water drain and serve as a side dish or mix with mashed potatoes and chopped onions.
 In its dry form it may be eaten as is, or added to salads, soups, etc. A nice garnish for stir-fries.
 Sea Lettuce contains all trace minerals and a range of vitamins A,B1,B2, & C.
Sea Lettuce Analysis
---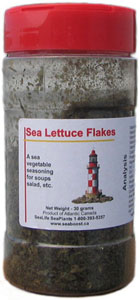 Results

Units

Vitamin B1 (thiamine)

.32

mg/100g

Vitamin B2 (riboflavin)

1.42

mg/100g

Vitamin B3 (niacin)

4.0

mg/100g

Vitamin B6 (pyridoxine)

0.26

mg/100g

Vitamin B12

31.5

µg/100g

Calcium

1.00

g/100g

Phosphorus

0.27

g/100g

Magnesium

1310

mg/100g

Iron

214

mg/100g

Zinc

1.70

mg/100g

Iodine

48.0

mg/100g

Manganese

3.05

mg/100g

Copper

0.52

mg/100g

Chromium

2.00

mg/100g

Water Soluble Fluoride

3.50

mg/100g

Arsenic

n/d

mg/100g

Moisture

12.58 +/-0.57

g/100g

Ash

21.92 +/-.085

g/100g

100 grams = 3.5 ounces
---
Order Sea Lettuce
| | |
| --- | --- |
| Sea Lettuce 454 grams - $57.30 | |
| Sea Lettuce Flakes 80 grams - $13.00 | |